Frequently Asked Questions
ANSWERS
1. Can TOUCH be used to dim all lights?
TOUCH allows the dimming of all dimmable and some non-dimmable lamps in accordance with the table below. A three-wire connection is required for dimming non-dimmable lamps.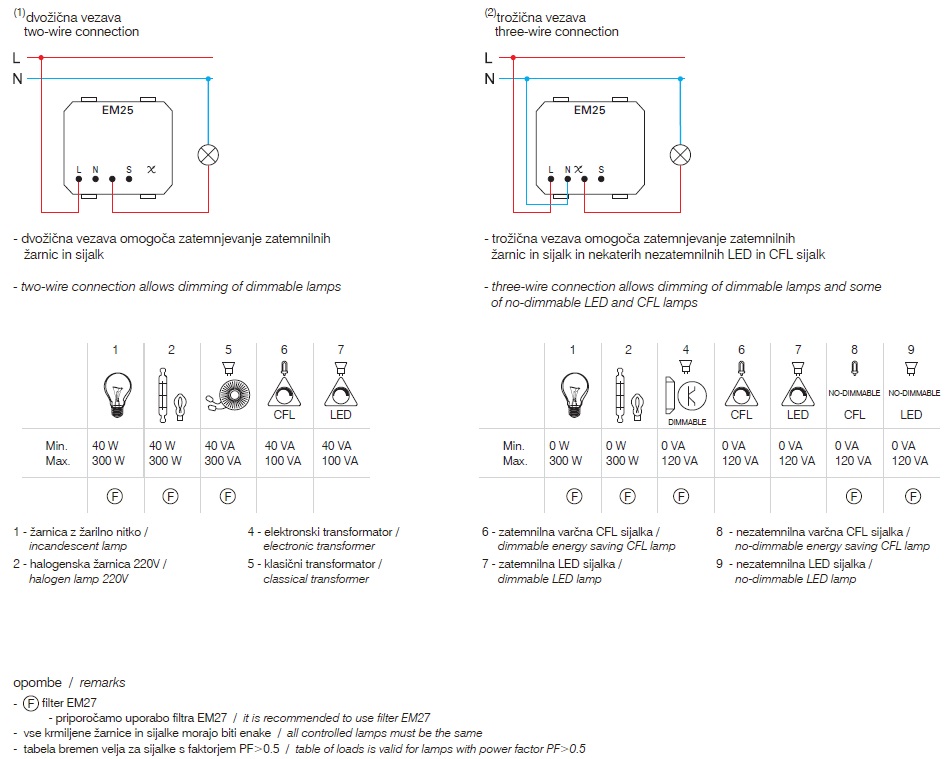 2. How does TOUCH work?
TOUCH is suitable for dimming R, RL, RC and RCL type loads. It is set to the dimmable lamps programme by default. When replacing dimmable lamps with non-dimmable ones, TOUCH must be reset in order for the proper algorithm to be selected.
IMPORTANT: Full dimmer functionality can only be achieved using a three-wire connection.
3. How can you know which lamps TOUCH does not dim?
TOUCH does not dim some non-dimmable lamps. If the lamps flicker when you start dimming, even after resetting the switch, they cannot be controlled using the TOUCH dimmer.
4. Can TOUCH be used in combination with traditional alternating switches?
No, but the EM26 push button control unit was developed specifically for this purpose. A single TOUCH can be used to connect up to 5 EM26 push button control units, as shown in the diagram below.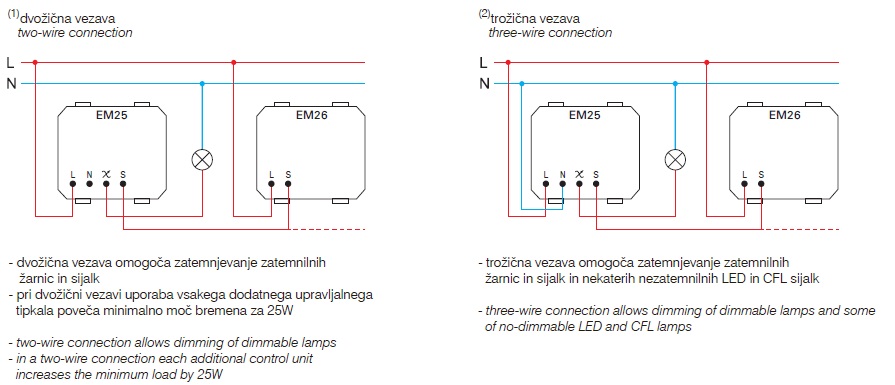 5. Can TOUCH be used to control the »downlighter«/DALI (Digital Addressable Lighting Interface)?
Generally, TOUCH is not intended for dimming this kind of load, but the electronics of some downlighters does enable control with TOUCH.
6. Can several lamps be dimmed simultaneously?
Yes, provided that the lamps are the same. But despite the manufacturer's declaration for lamps, in practice there can be deviations and different responses to dimming. The deviations are most noticeable in »non-dimmable« lamps.
7. Is it possible to connect several EM25?
No, the only way to connect it is with the EM26 push button control unit.
8. TOUCH does not recognise the lamp type – or it is not working?
Check whether you have a 3-wire connection (connected zero), since TOUCH cannot recognise lamp types with a 2-wire connection. Also, before using new lamps, check whether you have reset the TOUCH (for more, consult the technical setup instructions). Even after that, it is still possible that TOUCH will not work with some non-dimmable lamps.
9. The lamps are flickering. What is the cause of this?
Normally, this issue occurs in »non-dimmable« LED lamps. If TOUCH can be turned on and off, but the lamps constantly flicker when dimmed, the dimming of the »non-dimmable« LED lamps will not be possible due to in-built electronics preventing dimming.
10. Can I install 2 or 3 TOUCHes into one outlet (4M or 7M)?
Yes, but the total load of all TOUCHes in one outlet must not exceed 300 W.
11. How do you replace the old/traditional switches with the TOUCH dimmer?
Connection diagram 7.1, 7.2 or 7.3 from the enclosed technical instructions should be complied with.
12. Can TOUCH be used to dim fluorescent lamps?
No, the starting current is too high (> 2 A).
13. Is TOUCH loud?
TOUCH operates very quietly; switching is done using the installed micro switches.
14. How do you install the frequency filter?
Install the frequency filter (EM27) according to the diagram below.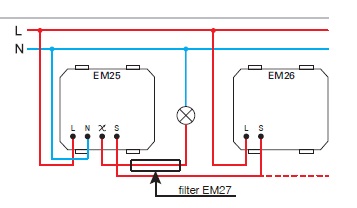 15. I am using dimmable lamps, but TOUCH does not work when I connect several of them at the same time.
Some lamps have a limit on how many can be connected into a single circuit. Please refer to your lamp instruction manual.
16. Where can I get additional information on the operation of TOUCH?
In the TOUCH leaflet and technical instructions and via our online contact form http://www.touch.si/en/contact.html.